emitSMS Mac
version 1.99 |

mac

---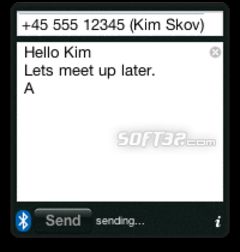 Name:
emitSMS
Version:
1.99
Size:
217.84 KB
Category:
Widgets
License:
Free
Released:
2008-05-06
Developer:
Anders Borum
Downloads:
595
Description
Write text messages in dashboard, send through mobile phone using bluetooth. Works with most bluetooth enabled phones from Nokia, Motorola and SonyEricsson among others.
Write the phone number in the top line, the message below and press send. The bluetooth icon color will inform you when message has passed through your phone and onto the cellular system. Hovering the mouse pointer above the icon will display additional information.
You will be charged the same amount by your phone company for messages sent through the widget, as for regular messages typed and sent through your phone. One short message can contain up to 160 letters, but the widget will allow larger messages by using several short messages if needed, as supported by your phone. Widget can use phones that Address Book does not support, but there are probably phones where Address Book works and this widget does not.
The widget can search your address book for people, allowing you to refer to friends by name instead of number. Note that only contacts in your computers Address Book are searched. Messages can be stored in a text file, inside "Application Support:emitSMS widget" in your users Library folder. That would be '$HOME/Library/Application Support/emitSMS widget/' to the unix inclined.
Screenshots