SpinOffice CRM Mac
version 6.5 |

mac

---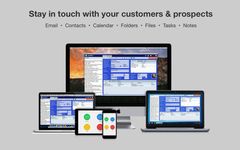 Name:
SpinOffice CRM
Version:
6.5
Size:
12.49 MB
Category:
Address Book & Calendars
License:
Free
Released:
2016-10-21
Developer:
Spinware Solutions
Downloads:
50
Description
Organize your business with SpinOffice. Stay connected with your business contacts, collaborate as a team and get your customers, prospects and other stakeholders together with all your communication, activities, documents and files in a shared database.
Consolidate all your contacts, leads, and customers into one central place. Organize notes, emails, files, and more by relationships' personal archive to keep information at your fingertips.
Instantly a shared calendar is created that's accessible to everyone in your organization. All appointments can be linked to contacts, colleagues and folders in the database. Invitations for appointments can automatically be sent and shielding appointments from others is possible.