TextWrangler Mac
version 4.5.1 |

mac

---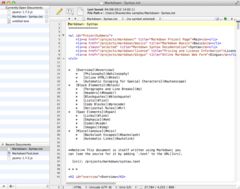 Name:
TextWrangler
Version:
4.5.1
Size:
10.22 MB
Category:
Word Processing
License:
Free
Released:
2015-02-24
Developer:
Bare Bones Software
Downloads:
849
Description
TextWrangler is the "little brother" to BBEdit, our leading professional HTML and text editor for the Mac.
A general-purpose text editor for light-duty composition, data-file editing (where the data files consist of plain [unstyled] text), and manipulation of text-oriented data. TextWrangler supports working with both plain-text and Unicode files (with the exception of files written using right-to-left writing systems, such as Hebrew or Arabic).
Text Editing and Manipulating Details
° Powerful single and multi-file search & replace with file filtering options.
° Flexible 'grep' style pattern-based search and replace based on PCRE (Perl-Compatible Regular Expression)
° Sort Lines and Process Duplicate Lines commands offer grep pattern support for sorting, extracting, and handling text
° Find Differences to compare two versions of a text file and merge the differences
° Support for a wide variety of BBEdit language modules
° Support for rectangular text selections
° Built-in text transformations: Zap Gremlins, Change Case, Entab/Detab, and more
° Open and save files in a variety of character sets, including Unicode (UTF-8 and UTF-16) files
° Supports viewing and editing of multi-byte and Unicode text
° "Live Search" for incremental text searches
° Open and save files in Mac, Unix, and DOS line-ending formats
° Hard or soft wrap text however you prefer
° Check spelling with built-in support for the Mac OS X spelling checker
° Quoted text rewrapper
° Unlimited Undo/Redo
° Multiple Clipboards
° Splittable editing windows
Screenshots