Silverlight Mac
version 5.1.20913.0 |

mac

---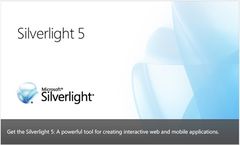 Name:
Silverlight
Version:
5.1.20913.0
Size:
15.19 MB
Category:
Web Tools
License:
Free
Released:
2015-07-02
Developer:
Microsoft
Downloads:
525
Description
Microsoft Silverlight is a powerful tool for creating and delivering rich Internet applications and media experiences on the Web. Silverlight 5 builds on the foundation of Silverlight 4 for building business applications and premium media experiences. Silverlight 5 introduces more than 40 new features, including dramatic video quality and performance improvements as well as features that improve developer productivity.
Silverlight is a free plug-in, powered by the .NET framework and compatible with multiple browsers, devices and operating systems, bringing a new level of interactivity wherever the Web works.
Microsoft designed Silverlight with the ability to deliver high-fidelity experiences on the broadest set of system configurations. Some features, such as HD video, may benefit from the power contained in newer personal computers.
Screenshots