Solitaire XL Mac
version 1.1.8 |

mac

---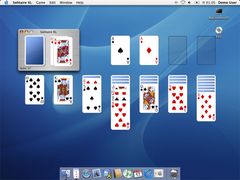 Name:
Solitaire XL
Version:
1.1.8
Size:
1.06 MB
Category:
Card & Board
License:
Free
Released:
2014-09-30
Developer:
Lavacat Software
Downloads:
444
Description
Solitaire XL is the Mac version of the built-in Windows application that lets you play card games on your computer. It might seem simplistic when compared with other games, but we found it very easy to use, and the app takes up very little space.
Solitaire XL has a very simple but well-designed interface with a few customization options to adjust the size of the cards and the background. It has a built-in Help file that will guide you through the app, but most will be able to skip this and start playing right away. We didn't find any groundbreaking features but the app will display your highest scores so you can see if you're getting any better. There isn't more on offer here, but this simple app is free and takes just a few megabytes of your computer storage space.
Overall, Solitaire XL looks good and works well, but it isn't something you'd play over and over again unless you didn't have any other games to play. Still, if you really love solitaire or just need something to distract you for a bit, this app is free and easy to use.
Publisher's Description
Screenshots