Porting Kit Mac
version 2.1.78 |

mac

---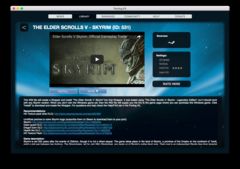 Name:
Porting Kit
Version:
2.1.78
Size:
6.02 MB
Category:
Tools & Editors
License:
Free
Released:
2016-06-10
Developer:
Porting Project
Downloads:
908
Description
With the Porting Kit, you can install Windows games in your Mac OS X computer. Porting Kit uses Wineskin-based technology, so each game is sandboxed, looks like a regular Mac app and runs almost like a native app. Also, it has multiple exclusive feature, like Fn keys toggle, mount the Windows partition of an hybrid (Windows and Mac) CD/DVD, a library to manage all your games (ports or not), and many other things.
Since the app uses Windows CD/DVD/licenses to install, you won't need to buy your game again. Already have Skyrim in your Steam library? Install it in your Mac. Have Assassin's Creed in your Uplay library? No problem, we install it. Bought Morrowind on GOG.com? Play it, it's yours.
With more than 600 games in the database, the Porting Kit is the perfect solution to install and manage your games in Mac OS X.