BitRocket Mac
version 0.3.3(32) |

mac

---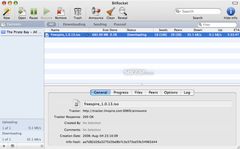 Name:
BitRocket
Version:
0.3.3(32)
Size:
1.7 MB
Category:
Internet Tools
License:
Free
Released:
2010-09-10
Developer:
Clone Software
Downloads:
1415
Description
UI Features:
RSS support (Download .torrent's from within the application)
Integrated (Customizable) Search Engine (Download .torrent's from within the application)
Flexible Filtering
Torrent Generator
Live Info View
UPnP and NAT-PMP Port Forwarding
Core(libtorrent) Features:
Trackerless torrents (using a kademlia DHT)
multitracker extension support (as specified by John Hoffman)
serves multiple torrents on a single port and in a single thread
gzipped tracker-responses
HTTP seeding, as specified by Michael Burford of GetRight.
piece picking on block-level (as opposed to piece-level). This means it can download parts of the same piece from different peers. It will also prefer to download whole pieces from single peers if the download speed is high enough from that particular peer.
queues torrents for file check, instead of checking all of them in parallel.
supports http proxies and proxy authentication
uses separate threads for checking files and for main downloader, with a fool-proof thread-safe library interface. (i.e. There's no way for the user to cause a deadlock).
can limit the upload and download bandwidth usage and the maximum number of unchoked peers
piece-wise, unordered, incremental file allocation
implements fair trade. User settable trade-ratio, must at least be 1:1, but one can choose to trade 1 for 2 or any other ratio that isn't unfair to the other party.
fast resume support, a way to get rid of the costly piece check at the start of a resumed torrent. Saves the storage state, piece_picker state as well as all local peers in a separate fast-resume file.
supports an extension protocol.
supports files > 2 gigabytes.
supports the no_peer_id=1 extension that will ease the load off trackers.
supports the udp-tracker protocol by Olaf van der Spek.
possibility to limit the number of connections.
delays have messages if there's no other outgoing traffic to the peer, and doesn't send have messages to peers that already has the piece. This saves bandwidth.
does not have any requirements on the piece order in a torrent that it resumes. This means it can resume a torrent downloaded by any client.
adjusts the length of the request queue depending on download rate.
supports the compact=1 tracker parameter.
selective downloading. The ability to select which parts of a torrent you want to download.
ip filter