RapidoResizer Mac
version 1.1.1 |

mac

---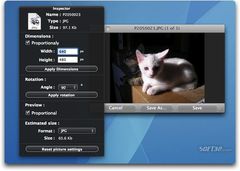 Name:
RapidoResizer
Version:
1.1.1
Size:
1.86 MB
Category:
Graphic Convertors
License:
Free
Released:
2008-04-29
Developer:
App4mac
Downloads:
218
Description
If you ever need to work in design, web design, photos work, or general image editing, you may need to resize an image. There ain't many methods which you can do it quickly and easily.
RapidoResizer is the ultimate solution. It allows you to resize your pictures and then to save them. Also, with this utility, you can extract applications icons.
Once you have opened an image or a group of images you get a range of options for you to apply to the image. This enables you to change the dimensions quickly an easily. If you want to apply this to many images at a time, it's possible with the "Edit.." option in the File menu.
In addition to resizing the image (with or without keeping proportions), RapidoResizer allows you to rotate the image, and change the picture to a variety of popular file types.
RapidoResizer is Freeware, gratis and freely usable! You can copy and distribute it. You can use it for as long as you want.
Screenshots