iBoostUp Mac
version 3.9 |

mac

---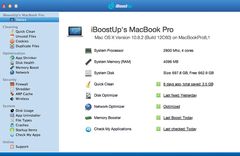 Name:
iBoostUp
Version:
3.9
Size:
5.8 MB
Category:
System Utilities
License:
Free
Released:
2013-10-31
Developer:
Iboostup
Downloads:
1803
Description
Has your Mac become slow and unresponsive? Has it lost some of the zing it used to have? Are you getting unexpected crashes and error messages? Is your Macbook getting hot and the fan running constantly?
If so, you need to download iBoostUp. The #1 free utility* on the Mac App Storeâ"  (*as of Jan 19, 2012)
iBoostUp tunes up and optimizes your Mac by purging unneeded files, fixing your hard disk, giving you performance recommendations, protecting your privacy by removing cookies, displaying system information and much more!
The iBoostUp status screen gives you an easy to read overview of your system and it's health.
Clean and speed up your Mac and improve your OS X experience with only a few clicks!
Data stored in cookies may be used by websites to track your browsing. Removing cookies may reduce tracking, but may also log you out of websites.
Duplicate File Finder helps you regain disk space and reduce clutter by searching for files with identical content, irrespective of location or filename. Please review scan results carefully before selecting files for removal, but rest assured that in case of inadvertent deletion your files are recoverable from Mac OS's Trash.
Mac OS Applications often include space consuming resources such as a variety of unneeded language files. iBoostUp's App Shrinker trims applications into shape and saves disk space by removing these components.
System caches can be useful in speeding up access to commonly launched applications or webpages. Over time caches can grow to consume considerable amounts of disk space so occasional purging is recommended.
Mac OS X is quite competent at managing your system's memory, but in certain instances manually freeing memory can be beneficial to performance. Memory Booster frees up your Mac's RAM and is recommended for use prior to launching memory intensive applications such as graphic design packages, games and emulators.