PHPQuickReference Mac
version 0.8.1 |

mac

---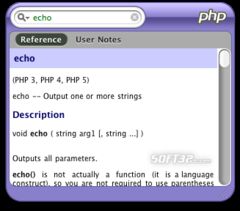 Name:
PHPQuickReference
Version:
0.8.1
Size:
248.67 KB
Category:
Widgets
License:
Free
Released:
2008-05-23
Developer:
Claudio Procida
Downloads:
326
Description
PHPQuickReference is a widget to search, browse and display online PHP documentation. All you have to do is enter the term you want to know about and it will do the rest. The widget provides basic HTML formatting and intelligent hyperlink management. Links recognized as reference topics are automatically browsed by the widget itself. Other links are sent to the default browser.
But there's more: the widget now features autocompletion and hints. The widget suggests you the longest viable prefix for a given input string, and it's even able to suggest all function names that begin by that prefix. It's way easier to understand how it works trying by yourself than to explain. Once you'll try it you won't be able to do without it anymore!
If you are a PHP developer, PHPQuickReference is what you were searching for. If you are a PHP newbie and you're greedy to learn, it gives you an easy way to search through the huge PHP reference. Just fire up Dashboard and find the reference of that function you don't remember!
Minimum system requirements are Mac OS X 10.4 "Tiger" or later, and an Internet connection (broadband recommended).
Screenshots