Facebook for Chrome
version 6.3.1 |

windows

---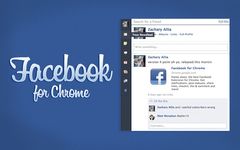 Name:
Facebook for Chrome
Version:
6.3.1
Size:
196.21 KB
Category:
Add-ons & Plugins
License:
Free
Released:
2013-09-24
Developer:
64pixels
Downloads:
664
Description
Facebook for Chrome is hands down a must have extension. Get notifications, post statuses & links, like, comment and more!
Chrome Extension for Facebook is an unofficial extension with incredibly easy access to your Facebook news, notifications, and friends right from your Chrome toolbar.
Instant Notifications: You'll know right away when someone posts on your wall, likes your status, etc.
Features:
- Posting & Sharing: No need to go to facebook.com just to update your status, post links, etc. Post directly from the extension.
- Right click to share! Right click on any link, picture, or page and click "Share on Facebook"
- Comment & Like: You can comment on statuses and posts right in the extension.
- Birthday Calendar: Easily see who's birthday is coming up in the next week
- Friend filter: Search through your friends with ease
Screenshots