Keepoint 7
version 1.7.19.04 |

windows

---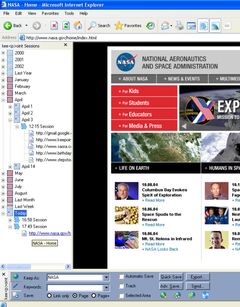 Name:
Keepoint 7
Version:
1.7.19.04
Size:
6.46 MB
Category:
Offline Browsers
License:
Free
Released:
2006-01-30
Developer:
Saora Inc.
Downloads:
308
Description
Keepoint 7 is a new class of web content management tool - a web research engine, which enables you to enhance carefully searched web pages and get productive with it. It provides complete suite of features for gathering, annotating, organizing, exporting and sharing valuable web research making it professional research assistant. It eliminates costs involved in printing, filing, sorting, managing and losing important information. Keepoint goes beyond search engines and turbocharges Internet research, making internet a truly rich resource that it was envisioned to be.
FEATURES:
* Single click save operation
* Save webpage or save page up to one link deep or save page Link(URL)
* Save part(images only, links only etc.) of the webpage for particular time period
* Save your session automatically
* Track webpage URL
* Save only selected part from webpage
* Assign own Keep As, Keywords, Time period
* Enables major functionality through mouse right click option
* Annotate directly on web page (Highlight text, change text color, remove unwanted text/images, add note, add footnote etc.).
* Extract only contact related information as memo by drag & drop feature and Export, Print Extracted data in different formats like CSV, TXT, HTML etc
* Export WebPage or part(links only, images only etc.) to specified location including external storage device
* Send or share a complete Webpage or part(URL only, links only, images only, with or without annotation) via email
* Automatic and Intelligent sorting/organizing of stored content
* Retrieve saved pages easily by specifying Browsing Date, Validity, Keep As, Keywords etc
Keepoint 7 is base product of Keepoint 7 series, designed for all internet users, business and academic professionals, available FREE of charge. It can be expanded to Keepoint 7 Pro or Keepad for unlimited storage. Keepoint 7 allows you to enjoy full functionality of Keepoint 7 Pro (including Keepad) indefinitely for saving/working up to 99 web pages, FREE of charge