BlueLightCat
version 0.6 |

windows

---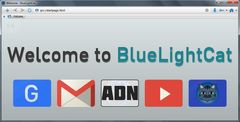 Name:
BlueLightCat
Version:
0.6
Size:
11.63 MB
Category:
Web browsers
License:
Free
Released:
2013-06-17
Developer:
Armee Du Net
Downloads:
55
Description
BlueLightCat is a simple browser whose feature list includes things like "History", "Bookmarks" and "QuickView", that is a page to see the most visited hosts.
It is small, less then 10,000 lines of code and very fast.
Note: BlueLightCat is a fork of Zeromus Browser.
Screenshots