Net.Ex Pro
version 1.1.1500 |

windows

---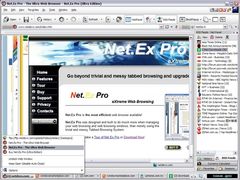 Name:
Net.Ex Pro
Version:
1.1.1500
Size:
3.24 MB
Category:
Web browsers
License:
Free
Released:
2012-02-12
Developer:
Netdevx.com
Downloads:
1007
Description
Net.Ex Pro, the Ultra Web Browser, comes in 2 Editions, the Basic Edition and the Ultra Edition. The Basic Edition is the free version with some restricted functionalities and is supported by some advertisement, while the Ultra Edition is the paid version with full functionalities and has no advertisement displayed. You can easily upgrade from the Basic Edition to the Ultra Edition by simply purchasing an Activation Key that will unlock the Ultra Edition. For only low price of only €19.95.
With Net.Ex Pro (Ultra Edition) you get the following advantages:
1. Auto Web Windows Management - Browse the Internet using an unlimited number of web windows without having to keep track of them. With Auto Web Windows Management, Net.Ex Pro will automatically clean up after you when you browse the Internet, such as automatically closing any inactive windows and cleaning your Internet browsing history.
2. Advanced URL Filtering and Ads Blocking - Using Net.Ex Pro powerful URL Filtering system, you can easily block unwanted Ads, Ads Servers, and other annoyances from loading, and stop them before they occurred!
3. Easy Program Management - Net.Ex Pro makes it easy for administrators to manage program options and settings by enabling password protection for all of Net.Ex Pro program options. Net.Ex Pro also make make it easy for workgroups to share session files and folders.
4. Free Auto Update - Get hassle free automatic update for the life of the product! Which mean that you will never have to worry about getting the latest patches or program update again.
5. Do More With Less Effort - Saves time and get more things done with less effort using Net.Ex Pro (Ultra Edition).
6. Get Immediate Online Delivery - Get immediate delivery via email, your registration key will be deliver to you immediately to unlock the full power of Net.Ex Pro (Ultra Edition).
7. Great Savings - Unlock the full power and potential of Net.Ex Pro (Ultra Edition) for only €19.95.
8. No Advertisement - No Advertising of any kind are display by Net.Ex Pro (Ultra Edition).