actiTIME
version 3.1 |

windows

---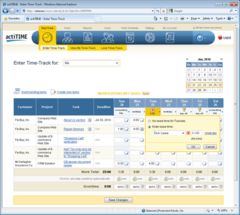 Name:
actiTIME
Version:
3.1
Size:
45.89 MB
Category:
Accounting & Billing Software
License:
Free
Released:
2012-07-03
Developer:
Actimind, Inc.
Downloads:
587
Description
actiTIME is a web-based application for time tracking and management. It helps to strengthen your team improving business process, analyzing team performance and reducing business costs.
With actiTIME it is easy to:
(1)Track work hours on the go with actiTIME Mobile for iPhone,
(2)Use weekly timesheet for entering time and comments,
(3)Plan the time spent on each task,
(4)Track time off and sick leaves,
(5)Track overtime & undertime,
(6)Get staff load in one click,
(7)Generate detailed reports, including overtime report,
(8)Customize timesheet with your own logo and color theme,
And much more.
actiTIME is free for small teams and startup businesses! KEEP ON TRACKING with actiTIME!