Dynacom Accounting Startup Edition
version 10.0 |

windows

---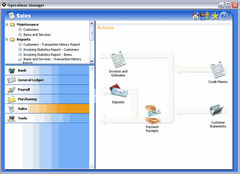 Name:
Dynacom Accounting Startup Edition
Version:
10.0
Size:
147.01 MB
Category:
Accounting & Billing Software
License:
Free
Released:
2006-08-23
Developer:
Dynacom Technologies, Inc.
Downloads:
693
Description
Dynacom offers a complete line of scalable financial software solutions, from this 100% free, no-strings attached, Startup Edition to higher-end multi-users, ERP, customizable editions. Over 250,000 users count on Dynacom Accounting Software to manage their business daily. Every Dynacom edition is customizable so you can adapt it to fit your needs. Personalize your application by installing add-ons to perform specific tasks, or have them created just for you if they do nott exist! You can also ask the developers on Dynacom's network to do it for you.
Worry-free installation will get you started quickly. Spend less time on accounting and more on your business, save time while reducing errors.
Dynacom Startup Edition provides all the tools you need to manage efficiently invoices, sales, cash flow, receivables, taxes, etc. It also has built-in affiliation program, just in case you would like to promote the free version too! Gain unmatched control of your business today, for free. For more information, please visit http://www.dynacom.com
Download your new, free business manager today. Phone and online support is also free! Also available in French and Spanish!