All in One PDF Lite
version 1.0 |

windows

---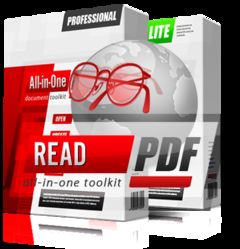 Name:
All in One PDF Lite
Version:
1.0
Size:
1.26 MB
Category:
Converters
License:
Free
Released:
2011-02-10
Developer:
All-in-one Pdf
Downloads:
523
Description
All-In-One PDF Lite is a free PDF reader that allows you to view any PDF file. Compatible with Windows 2000/XP/Vista/7, All-In-One PDF Lite is designed with two primary objectives in mind; speed and reliability. Unlike some other PDF readers out there like Adobe Acrobat, All-In-One PDF Lite is very fast and light and puts little demand on your computer.
Our studies have also shown that users are looking for speed and simplicity in their free PDF readers, that's why All-In-One PDF Lite has been designed with your needs in mind. With standard features such as multi-page viewing, support for 1000s of fonts, page zoom and fit options, navigation toolbar, and much more, All-In-One PDF Lite is a top PDF viewer. Whether it is a PDF from a website or a friend, we're sure that All-In-One PDF Lite will be the last PDF reader you will ever need.
PDF has grown internationally as the most recognized universal document exchange format, people and businesses have been met with the challenge of modifying PDFs. With so many kinds of PDF software out there to choose from, it's no wonder that people become discouraged about which PDF editor or viewer is the best.
All-in-One PDF is dedicated to providing the best operation in conjunction with the ultimate value when it comes to PDF editing, creating, and converting. If you're interested in finding out more about our company and our products, please feel free to contact us.
Simply download and install, and you'll be viewing PDFs easily and confidently. Why waste your time with heavy applications that slow down your system and charge you a price to simply view PDFs? With All-in-One PDF Lite you can view and read PDFs anytime. Download our All-in-One PDF Lite now!