Foxit Reader
version 8.3.0.14878 |

windows

---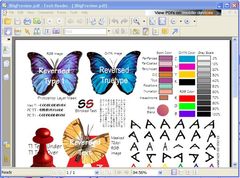 Name:
Foxit Reader
Version:
8.3.0.14878
Size:
48.09 MB
Category:
Word Processing Software
License:
Free
Released:
2016-07-22
Developer:
Foxit Software Inc.
Downloads:
321
Description
New capabilities in Foxit Reader 8.0 include:
ConnectedPDF – Extends the ISO PDF standard and enables a wide range of cloud-delivered capabilities.
• Convert existing PDFs or other formats to cPDF.
• Track who opens your document, when, and where, as well as what actions they perform on the file.
• Manage versions of a cPDF document.
• Participate in PhantomPDF Business initiated connected reviews without having to set up a shared server.
• Receive document update notification.
• Send a request to other users to get files you want or accidentally deleted.
Dropbox integration – Open and save PDF files in Dropbox.
Touch Mode – Makes Reader easier to use on Windows touch-screen devices.
Auto save – Automatically save PDF documents at regular intervals in case of system crash or power failure.
Foxit Reader provides a consistent user experience for PDF consumption across multi-platform environments, consisting of Foxit Reader for Windows, Mac, and Linux desktops and Foxit MobilePDF for iOS, Android, and Windows Phone mobile devices. ConnectedPDF is also available in Foxit Reader for Mac 2.0 and Foxit MobilePDF 5.0.