TrueConf Server Free
version 4.3.7 |

windows

---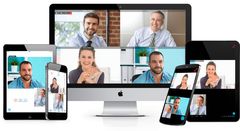 Name:
TrueConf Server Free
Version:
4.3.7
Size:
164.71 MB
Category:
Web Cam
License:
Free
Released:
2016-07-29
Developer:
Trueconf Llc
Downloads:
123
Description
TrueConf Server Free - is free of charge video server for 6 users with a possibility to make video calls and group conferences in LAN via the Internet. It has a simple integration with IP telephony and SIP/H.323 devices and also API & SDK.
TrueConf Server Free is used in more than 5000 companies over the world connecting tens of thousands of working places and conference rooms. The server is specifically developed to operate inside your corporate network and its implementation takes only 15 minutes! The TrueConf software-based server itself does not perform transcoding which significantly lowers infrastructure costs and requirements.
UltraHD (4K) video conferences, cross platform client applications, the possibility to participate in video conferences via browsers, collaboration tools, address book with presence statuses and avatars, flexible administration capabilities. And you get all this for free!
You can connect video surveillance systems, your PBX or existing video conferencing equipment even to the free video conferencing server for fully featured participation of SIP/H.323/RTSP users in your conferences including PSTN calls.
With a help of TrueConf Server you can broadcast real time video conferences for any audience which allows broadcasting even for million users using popular services and content delivery solutions (e.g. Youtube) with HD quality (720p, 30FPS).
The TrueConf API is available for integration of third party applications and services with your server copy.
TrueConf Server Free has a web interface that you can access from any Internet-enabled device.
Screenshots