Talking Desktop Clock
version 1.2 |

windows

---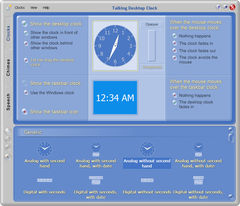 Name:
Talking Desktop Clock
Version:
1.2
Size:
639.99 KB
Category:
Clocks & Time Management
License:
Free
Released:
2010-03-08
Developer:
Cinnamon Software Inc.
Downloads:
241
Description
Shows a clock on the desktop and/or in the system tray. The desktop clock fades or moves when the mouse moves over it. Many different clock styles are available.
Speaks the time and/or plays chimes at the hour, half-hour, and quarter-hour. Uses Microsoft Agent or Microsoft Speech to speak the time. Many chimes are available.
Fully configurable and customizable, including customized clock styles and chimes.