Windows7 Festival Icons
version 2009.01 |

windows

---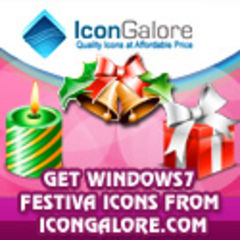 Name:
Windows7 Festival Icons
Version:
2009.01
Size:
14.23 MB
Category:
Icons
License:
Free
Released:
2009-12-11
Developer:
Windows7 Festival Icons
Downloads:
479
Description
Coming to this latest icon pack at icongalore, the worth of these is they allow whole revamping of old windows icons into the latest windows7 icons. The up-to-the-minute collection of windows 7 festival icons at icongalore's gallery comprises of angel, balloons, ball, bell, cake, gift, gingerbread, drum, along with many other beautiful festival icons. These icon designs are a cool and innovative way of adding the festival mood to your websites and software applications.
With scores of these icons and others, icongalore.com has quickly turned out to be the preferred icon source for many web designers and application developers. Also, the website has initiated a major affiliate program that allows you to make money by promoting the icons.
Highlights of Icongalore.com
• Largest compilation of icon products on the web
• Best quality at an economical price
• Vastly knowledgeable and friendly customer support
• Well qualified and skilled team of design professionals
• Only site where clients can select and buy the icons individually
• Icons are available in popular formats such as bmp, ico, gif, png and jpeg
This news is a Christmas/New-year gift from the site. Also, the pricing has been reduced to more affordable rates to help members of the web development community. Nevertheless, the quality has been preserved as high-quality as always.
Click here for free icons downloads at icongalore.com. You can also buy the entire Windows7 festival icon pack for a special price of just $77. You can be assured that this is the best deal for windows 7 festival icons on the internet.
For regular updates on our windows7 network icons and other products, you can subscribe to icongalore.com's newsletters. Try the freebies now!