StroyCode
version 1.40 |

windows

---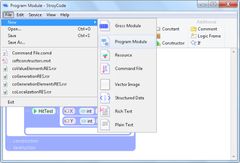 Name:
StroyCode
Version:
1.40
Size:
1.39 MB
Category:
File Editors
License:
Free
Released:
2013-09-23
Developer:
Softconstructors
Downloads:
300
Description
StroyCode combines a set of features that are necessary for a developer. The main purpose of the program is to produce other programs. Programming in Pascal/Delphi.
Below is a description of components, which StroyCode consist of:
- Creating source codes in Pascal language.
- Resource editor for programs. Creating resource (*.res) files.
- Creating Batch (*.bat) files.
- Creating XML (*.xml) and INI (*.ini) files.
- Text editor is designed for writing programs helps, drawing up technical documentation, creating webpages.
- Simple text editor.
Screenshots