Pokémon Go for PC
version 3.7.0.0 |

windows

---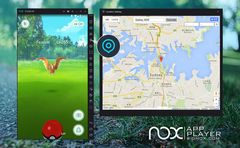 Name:
Pokémon Go for PC
Version:
3.7.0.0
Size:
361.16 MB
Category:
Adventure
License:
Free
Released:
2016-07-18
Developer:
Duodian Network
Downloads:
1044
Description
It took Pokémon GO only 5 days to become the biggest mobile game in US history. Your country is not in the supported list? Don't worry. Install Pokémon GO for PC and Nox App Player will give you a trial chance for this extremely popular game! Nox can also help everyone catch the Pokémon no matter where you are!
Nox App Player is a wonderful Android emulator and has already pre-installed Pokémon Go for you. With its virtual location function and direction controller, Nox App Player can make you "be" in anywhere you want and catch the Pokémon in any corner all around the world!
Virtual location - break the restriction of region and offer you a trial chance if your country isn't available for the game
Keyboard Control - use WASD to emulate walking, move around on your fingertips
These two functions are definite great news for people who don't have the game yet in their country and of course also for people unable to get outdoors.
Download the software, install, click the Pokémon GO icon and then start the game. Instead of setting your location on the map every time you want to move, use the direction controller to emulate walking on your fingertips. If you want to go to somewhere farther, open the map and set your position manually. America, Australia, New Zealand… It can be anywhere you can find in a map! Then throw your PokéBall and start catching your own Pokémon.
Playing Pokémon Go on Nox App Player is more stable and convenient compared to other approaches. As a wonderful Android emulator admitted by many users, Nox App Player is your best choice to play Android game on PC.
Attentions:
1. This is only a trial version for Pokémon Go players from unsupported countries and Nox App Player doesn't guarantee a permanent using of this game.
2. Don't make long-distance move frequently, which may be considered as abnormal actions and can easily get banned.
3. If your Pokémon always run away, maybe your account is banned. The first ban usually lasts half an hour