Microsoft 3D Pinball - Space Cadet
version 1.0 |

windows

---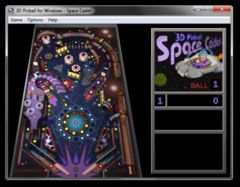 Name:
Microsoft 3D Pinball - Space Cadet
Version:
1.0
Size:
1.95 MB
Category:
Arcade
License:
Free
Released:
2016-03-25
Developer:
Microsoft
Downloads:
694
Description
Microsoft Windows Pinbal, or 3D Space Cadet Pinball was introduced in Microsoft Plus 95, it then became so popular that it was included in Microsoft Windows NT 4 by default. Microsoft then provided instructions to install it form the Plus 95 CD into Windows 98, it was also included with ME, 2000 and XP. Unfortunately, Microsoft Pinball died a slow and painful death with the release of Windows Vista, or did it?
Today I have succesfully ported over all of the files of Microsoft Pinball for Windows XP to Windows Vista And 7 and it is fully functional, below you can see the screenshot of pinball running in Windows 7 and the about box, this is not photoshoped, this is the real deal!