Calculation Solitaire Game
version 1.0 |

windows

---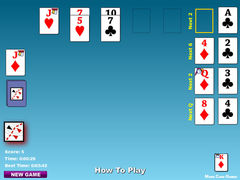 Name:
Calculation Solitaire Game
Version:
1.0
Size:
3.5 MB
Category:
Cards & Lottery
License:
Free
Released:
2009-09-30
Developer:
Calculation Solitaire
Downloads:
76
Description
Calculation Solitaire is a solitaire card game where the player must place cards in a sequence where each card follows a card that is less the next card by an amount that corresponds to a card adjacent to the foundation. Math skills can help a player plan for the placement of cards in the sequence. The player has 5 columns he can use to temporarily store cards before they are put in the foundations, but may not move cards between the columns. The player also may draw cards from a stock pile into a waste pile, but can only store a single card at a time in the waste pile before moving it to the columns or the foundations.