MEmu App Player
version 2.3.1 |

windows

---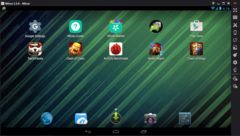 Name:
MEmu App Player
Version:
2.3.1
Size:
260.69 MB
Category:
Simulation
License:
Free
Released:
2016-02-18
Developer:
Microvirt
Downloads:
958
Description
MEmu App Player is a FREE Android Emulator, aims to provide you the best experience to play Android games and apps on PC. After eight month rapid iteration, it comes to 2.3 release now and gets millions of users and good feedback. As a solid proof of well received product, MEmu's topic is ranked the top thread of XDA Android forum with more than 150,000 views.
With MEmu, you can
1. Play Android game or app on PC with larger screen and unlimited battery.
2. Play Android games in multiplayer mode, which means you can enjoy different games or logon different accounts at the same time.
3. Enjoy better gaming experience with keyboard or joystick mapping on powerful x86 computer.