Mars Soldiers-7
version 4.0 |

windows

---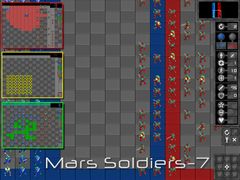 Name:
Mars Soldiers-7
Version:
4.0
Size:
67.78 MB
Category:
Strategy
License:
Free
Released:
2011-07-07
Developer:
Style-7
Downloads:
267
Description
Main features of the game:
* 7 types of the Heroes for each side (each Hero have the unique weapon and the battle, resource and produce bonuses);
* all Heroes have 7 types of the adjutants (Hero?s soldiers) for each side. Adjutants is created by the Hero and possesses the same weapon as his creator;
* 7 types of the soldiers and commander for each sides.
Additional features of the game:
* the original two-phase move of a soldier;
* parallel orders;
* big set of functions for search, selection and control soldier;
* two campaigns (for Earth and for Mars), consisting of 7 levels;
* two players game (flexible adjustment of Heroes and soldiers used in battle for each side);
* network game.