Juice Grinder
version 2.0.6 |

windows

---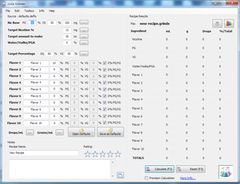 Name:
Juice Grinder
Version:
2.0.6
Size:
27.2 MB
Category:
Hobbies
License:
Free
Released:
2015-09-10
Developer:
Chris Formeister
Downloads:
124
Description
Juice Grinder is a freeware eJuice Mixing tool that calculates all of the necessary amounts you need to create your own eJuice. In addition to this basic feature, the software contains a multitude of other calculators and features for power users.
Based originally on the interface and features from eJuice Me Up and other popular calculators, Juice Grinder extends these functions to be more powerful and time saving, as well as adding features, including:
10 Flavoring Fields for extra-large recipes
Quick Values, a quick way to insert common combinations of Nicotine and PG/VG amounts, Target Nicotine, Target Amount, etc. without having to manually enter them.
Print a Bottle Label using Avery & other Label stock sheets (requires MS Word be installed)
3 Print Modes: As a recipe card, As seen on Screen, and as a generic Text list
Ability to add a name to a Recipe and attach a Rating to it
Ability to Load and Save Recipe Defaults (ex. Base amounts, etc.) on the fly
Conversion calculator and table
Juice Mixing Cost calculator - find out how much it costs you to mix vs. buying retail
Export to PDF, CSV, and various Excel formats (Excel export requires Excel be installed)
Opens and saves to 3 different file formats - Juice Grinder, eJuice Me Up and EZMix files
Ability to save to & be backwards compatible with eJuice Me Up so you can share your recipes with the world
Cut/Copy/Paste facilities
Little knicknacks like Links to Helpful Articles and Shopping
plus lots more!
No other software offers you all these options - it's great for beginner and advanced users alike!