JetType
version 1.0 |

windows

---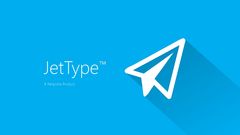 Name:
JetType
Version:
1.0
Size:
6.94 MB
Category:
Miscellaneous
License:
Free
Released:
2015-12-14
Developer:
Ninponix
Downloads:
104
Description
If your work implies heavy keyboard usage, such as typing text paragraphs or calling several functions with hotkeys, you might consider improving your typing skills.
Instead of trying to achieve this by typing large fragments of text until you familiarize yourself enough with the keyboard, you can also try turning to third-party software. JetType is one of the applications that might come in handy in the above situation.
Please note that this utility requires .NET Framework on your machine to function properly.