TVersity
version 3.4 |

windows

---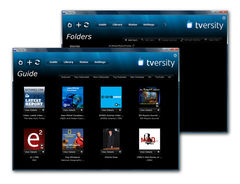 Name:
TVersity
Version:
3.4
Size:
48.29 MB
Category:
Internet Radio & TV Players
License:
Free
Released:
2016-05-26
Developer:
Tversity
Downloads:
253
Description
Welcome to TVersity - the leading UPnP & DLNA Media Server!
Play your entire media collection on TV and mobile!
Access your personal Internet content from sites like YouTube, Flickr and Picasa!
Go Pro and gain access to any web page with Flash video!
Personalize your library with tagging, content discovery wizards, and a web browser toolbar!
Devices with DLNA / UPnP A/V or just a web browser and a media player all just work!
Game consoles, Set-top boxes, Blu-ray players, Networked TVs, phones and tablets!
Overcome device limitations effortlessly with automatic on-the-fly transcoding!
Your device is not officially supported? Chances are that our user community supports it!
Screenshots