Freegate
version 7.37 |

windows

---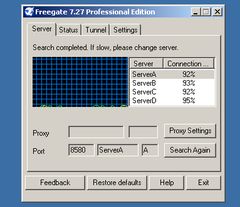 Name:
Freegate
Version:
7.37
Size:
2.51 MB
Category:
Others
License:
Free
Released:
2012-12-12
Developer:
Dynamic Internet Technology, Inc
Downloads:
108
Description
Freegate is the most popular circumvention proxy anonymity software used in China. Many students, tourists, businessmen, diplomats and journalists find Freegate indispensable during their visit in China.
Warning: you may not be able to access this web site in China. If you are going to China, this may be your last chance to see this page as well as websites such as facebook.com, youtube.com, twitter.com, if you do not carry a workable circumvention solution with you. You may also want to practice using this software while you are still in the free world, so it is easier to resolve any usability confusions. Please note that the usage of this software outside China may be limited to some web sites only. This issue will disappear when you are in China.
Screenshots