Supremo
version 2.3.4.299 |

windows

---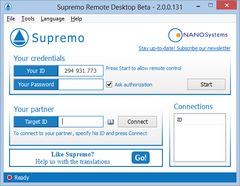 Name:
Supremo
Version:
2.3.4.299
Size:
3.08 MB
Category:
Remote Tools
License:
Free
Released:
2015-01-09
Developer:
Nanosystems S.r.l.
Downloads:
9348
Description
Supremo is a free remote desktop software to provide remote assistance to customers. Supremo is constituted by only one executable file that is very small and doesn't need any installation. In just a few clicks you will be able to provide – or receive – support through Supremo.
Supremo uses a powerful data transfer protocol that allows you to connect to remote computers behind routers and firewalls without any configuration. Supremo doesn't need any installation or setup and its connection is extremely secure thanks to its integrated encryption.
Supremo allows multiple users to connect to the same computer. This can be very useful when you need to do complex assistance sessions or when you need to do an internet presentation. For example, your customers can connect at the same time to a computer in your company and see a presentation of your products and services.
Supremo provides an integrated file transfer application, that allows you to explore the disks of the remote computer and transfer files and folders in both directions. You can send a folder from your PC to the customer's PC with a simple click, or you can download a file/folder from the customer's PC to your local PC.
Supremo is a secure and reliable application. All the data transferred through the Internet is encrypted with the AES 256-bit algorithm. In addition a random 4-digits password is generated at every control session. It's also possible to specify a much stronger password to protect your machine and block specified IDs.
Supremo provides a lot of useful features in order to simplify your job. You can install Supremo as a Windows service, to make the connection always available in background. Furthermore it includes an integrated chat application that allows you to chat with multiple users while you are connected for remote assistance.