Winsock Repair
version 0.0.5.56 |

windows

---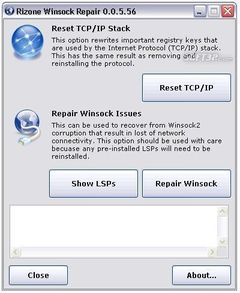 Name:
Winsock Repair
Version:
0.0.5.56
Size:
108 bytes
Category:
Network Testing
License:
Free
Released:
2009-08-12
Developer:
Rizone Technologies
Downloads:
631
Description
Winsock, which stands for Windows Sockets Api, defines how networking software should access network services. Many users come into contact with Winsock after experiencing connection problems that are usually related to Winsock. The connection problems come in a wide variety and include losing network connections, dns lookup problems, websites becoming unavailable, limited network connections plus many more.
There are several reasons for these network issues including computer crashes, installation of networking software or malicious software attacks that tampered with network settings and Winsock. A corrupt Winsock can therefor lead to all kinds of networking troubles which are difficulty to analyze and understand for the inexperienced user.
Winsock Repair can fix most Winsock errors with the push of a button. That's obviously more comfortable than having to fix the errors manually.
Winsock Repair is a portable software program for the Windows operating system that has two primary functions. The first is to reset the TCP/IP stack which will rewrite important Windows Registry keys with their default values. The second will try to repair Winsock so that the network connectivity issues are a thing of the past. It does provide an option to list the installed LSPs (Layered Service Providers) which can be important as pre-installed LSPs might need to be reinstalled after fixing the Winsock errors.
Screenshots