Photos On Canvas Print calculator
version 1.00 |

windows

---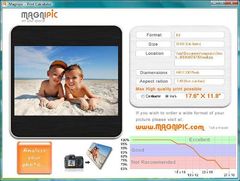 Name:
Photos On Canvas Print calculator
Version:
1.00
Size:
3.69 MB
Category:
Digital Photo Tools
License:
Free
Released:
2008-09-10
Developer:
Magnipic
Downloads:
77
Description
Photos on Canvas Printing quality Calculator - use this completely FREE and elegant solution in order to calculate the quality you will get when printing your digital pictures on canvas. According to target size, calculate the resulting quality.
This Tool allows you to choose your photo, see all its attributes - size, resolution, dimensions, location, and then according to your desired target size, you will see a graph displaying the resulting quality you will get when you print this photo on canvas.
The Photos on Canvas printing quality calculator was created based on the aggregated experience and knowledge of Magnipic, resulting from years of actually printing photos on canvas to our customers – please feel free to use and share our solution at no cost.