Free Malware Scan | Metadefender Client
version 3.12.5.777 |

windows

---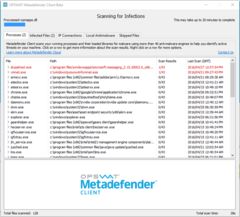 Name:
Free Malware Scan | Metadefender Client
Version:
3.12.5.777
Size:
9.54 MB
Category:
Antivirus Software
License:
Free
Released:
2016-11-15
Developer:
Opswat
Downloads:
86
Description
Powered by OPSWAT's Metadefender Core technology, Metadefender Client is a lightweight tool that enables multi-scanning of endpoints for viruses, keyloggers and other malware. Metadefender Client is ideal for quickly scanning endpoints prior to a network, web or server login or for regularly scheduled security checks.
Metadefender Client provides the ability to scan endpoints' running processes, loaded libraries, full system, or selected files, folders and drives without requiring any installation on the endpoint. Metadefender Client also scans virtual machines for malware without having to open or run the virtual machine. By connecting to your local Metadefender Core server, Metadefender Client harnesses the power of multiple anti-malware engines to ensure endpoint health.
Screenshots