Protectorion Data Safe Free
version 3.0 |

windows

---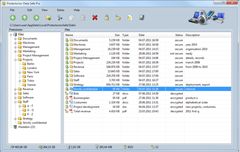 Name:
Protectorion Data Safe Free
Version:
3.0
Size:
3 MB
Category:
Encryption software
License:
Free
Released:
2012-02-03
Developer:
Braincell Consult & Research Gmbh
Downloads:
867
Description
Protectorion Data Safe encrypts files and folders and protects passwords. The software prevents hackers and other unauthorized persons from reading and misusing confidential data on PCs, stolen laptops and lost flash drives. Manage all encrypted files and protected passwords directly within Protectorion. Powerful and easy to use on-the-fly encryption - on PCs, flash drives and external hard disks. Protectorion is the practical IT security solution for individuals and small enterprises.
Functions:
1. Strong and fast encryption for all file types with AES 256 bit.
3. File names and folder names are encrypted and displayed only in Protectorion.
4. Seamless Windows integration via consistent Drag & Drop.
5. All data can be opened, edited and saved directly within Protectorion.
6. Deleted files are irrevocably erased and can not be recovered using recovery software.
7. Encrypted backup copies can be created with a single mouse click.
8. Files and folders can be provided with meaningful and clear descriptive texts.
9. Integrated Password Safe for keeping user names and passwords (e.g. for e-banking, web mail).
10. Passwords on flash drives can be synchronized with the computer.
11. Protectorion Pad: Windows Miniapp for easy encryption without opening the safe.
12. Standby Mode: Access Protectorion without reentering the password.
13. Auto-Lock: You decide when Protectorion will lock automatically.