Digital Lifeboat
version 2012.10.5.2 |

windows

---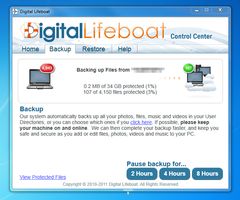 Name:
Digital Lifeboat
Version:
2012.10.5.2
Size:
4.24 MB
Category:
Backup & Recovery
License:
Free
Released:
2013-03-01
Developer:
Digital Lifeboat, Inc.
Downloads:
108
Description
Protect your vital data and memories on your PC's with Digital Lifeboat!
Avoid losing and protect all your precious files like family photos, videos, music, work & more.
Digital Lifeboat is a cloud-based unlimited online backup & recovery service for PCs and is free to backup up to 10 GB. Digital Lifeboat is the most affordable disaster recovery plan. It is automatic and continuous protection for your PC against accidental deletion, hard drive failure, natural disasters like fire or flood, and loss or theft.
Why us?
Quick install in under 90 seconds
AES-256 encryption. The same type used by banks & military
Revolutionary Digital Lifeboat Cloud
10 GB Free Per PC
We are constantly adding features to improve our service based upon your feedback. Thank you!
Screenshots