WinUSB - multiboot
version 3.2.1.1 |

windows

---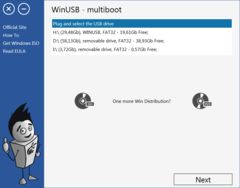 Name:
WinUSB - multiboot
Version:
3.2.1.1
Size:
2.85 MB
Category:
Boot Managers
License:
Free
Released:
2017-03-20
Developer:
Winusb
Downloads:
349
Description
There are different ways to create a bootable Windows USB stick. But most of them force you to perform mandatory disk formatting or scare with incomprehensible interfaces with many options. It can make you waste a lot of time understanding what to do and selecting important files and their subsequent saving on hard drive…
WinUSB – friendly, lightweight and portable application that lets you avoid the problems described above and create Windows multiboot USB flash drive with just three steps!
WinUSB advantages:
1. Easy to use - create Windows multi-bootable USB flash drive with just three ease steps in intuitive user interface.
2. Mutiboot USB - you can choose any number of Windows distributions to create your own multi-boot flash drive.
3. UEFI with NTFS - Now computers with installed BIOS are less and less, fortunately, WinUSB supports booting in both modes - BIOS and UEFI. On most computers, WinUSB allows you to boot from a USB drive with NTFS file system, even in UEFI mode.
4. Without formatting - Formatting of your flash drive will not required, when free space on it is enough, in most cases. If formatting is required, WinUSB will definitely tell you about it.
Official site: http://www.winusb.net