Pc Cleaner Perfect
version 1.3.7.55 |

windows

---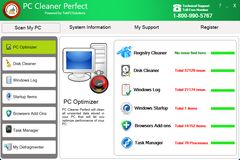 Name:
Pc Cleaner Perfect
Version:
1.3.7.55
Size:
3.97 MB
Category:
Diagnostics & Benchmarks
License:
Free
Released:
2017-01-03
Developer:
Tek Pc Solutions
Downloads:
427
Description
Pc Cleaner Perfect is a best PC optimiser software, which has the following features:-
Clean the Junk Files of Your PC.
Clean the Recycle Bin
Clean Internet Explorer unnecessary Data like Cookies, Cache and History.
Clean all major Browsers Data.
Fix all Registry Issue and more.
Basic Software Information:-
File size -3 MB
Current Version- 1.3.7.55
Release Date- July 26, 2015
Minimum Requirements:-
Microsoft .net framework 4.0, Above XP Windows Operating System
PC Cleaner Perfect is a PC Optimizer utility software for Windows operating system to perform multiple tasks for your windows based computer. It identifies system errors and fixes all system problems like corrupted files, memory problems, startup errors, windows log errors, browser Add-ones errors and system errors simultaneously.
PC Cleaner Perfect includes some helpful tool like Startup, Task Manager and windows firewall manager. This have some great feature like Click to call, you just enter your Phone Number and push a button after that you easily connected to our technician and you can give your Desktop Remote to our technician by using tool.
Other Features:-
Harmless...
Virus,adware and malware free...
User friendly
Light weight.
Regular update with new feature.
OS Compatible
User friendly
No internet required.
Easily removal from control panel.
24*7 support.
Free ware.
Screenshots