Parallel Port Viewer
version 1.27.043 |

windows

---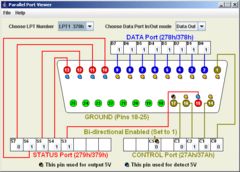 Name:
Parallel Port Viewer
Version:
1.27.043
Size:
197.84 KB
Category:
System Tools
License:
Free
Released:
2007-03-10
Developer:
Softcollection
Downloads:
1178
Description
Description:
This program allows you to view and control parallel port on hardware level.
Features:
* It is possible to change each bit in Data Register, Status Register and Control Register.
* It is possible to view and control when 5 Volts exist on the pins of parallel port DB-25 connector.
In order to use this program on Windows NT/2000/XP you need to install the driver for parallel port.
There are three steps of installation.
1. Put UserPort.sys to \WINDOWS\system32\drivers\
2. Put parport.dll to \WINDOWS\system32\
3. Run UserPort.exe. Configure as showed in the picture below, then press Update afterward press Start.
That's all.