Baidu Cleaner
version 6.0.4.124433 |

windows

---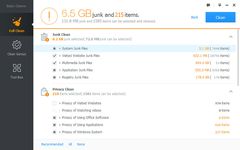 Name:
Baidu Cleaner
Version:
6.0.4.124433
Size:
802.1 KB
Category:
Uninstallers
License:
Free
Released:
2015-05-05
Developer:
Baidu
Downloads:
1474
Description
Baidu Cleaner promises to improve computer performance in a unique new way. Baidu Cleaner builds a "junk file" database in the cloud, identifying unused files that are clogging a computer based on its user's behavior, and then integrates data from multiple users to continually improve its junk detection effectiveness. This Cloud-cleaning system is what makes Baidu Cleaner better than junks files cleaning comparing with other optimizing software in the market. Cleaning feature of Baidu Cleaner is not just powerful, the simple and user-friendly interface makes it a easy-to-use feature too. After opening the Baidu Cleaner, clicking the "Full Scan" is the only move you have to do to get a clean PC. Being clean and fresh is just a single click away from you!
Baidu Cleaner is also about finding a smarter way to maintain your computer in real-time. Baidu Cleaner is approaching the perennial problem of a sluggish computer from a 21st-century mindset. There's a lot of potential in harnessing the power of big data and the cloud for PC optimizing, but so far it's been under-utilized. Baidu Cleaner wants to change that. By analyzing a huge amount of junk files, Baidu Cleaner can learn to more rapidly -- and accurately -- identify what's slowing down your PC. Over time, it will be able to easily see the nearly invisible patterns of stubborn computer trash, like specific folder names, filename extensions, and even read-write frequency of program. In order to enrich your PC experience, there are also prepared several handy tools for you, like, Large File Cleaner, a System Repair tool, a personal WiFi Hotspot tool and more.
Baidu Cleaner is currently available for Windows 8/7/Vista/XP, and has built-in language support for English, Thai and Portuguese.
Screenshots