iFreeUp
version 1.0.9 |

windows

---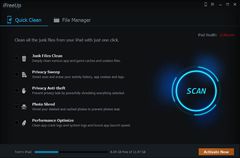 Name:
iFreeUp
Version:
1.0.9
Size:
27.59 MB
Category:
Utilities
License:
Free
Released:
2016-11-24
Developer:
Iobit
Downloads:
165
Description
People take photos and videos on iPhone iPad every day. Problem comes when your 8GB/16GB iPhone iPad runs out of space. With unique engine from IObit, iFreeUp provides iOS users with 1-click solutions to detect and clear temp files, useless and corrupted downloads, cookies and other kinds of big files. Sometimes, iFreeUp will help you recover 2- 4GB storage space in your 8GB iPhone.
With a neat UI, iFreeUp offers you comfortable managing methods to safely transfer your precious photos, videos and music between your iOS devices and computer. If you want to upgrade to new iPhone 6 or a bigger one, iFreeUp always backs up all of them with ease in the right place of your PC.
No matter when you want to back up your app and game records or change to iPad Air 2, iFreeUp can completely export your apps even with related app data and game records. Meanwhile, you are free to import games and pick up your game progress with a bigger screen of iPad. A tip: exporting infrequently used apps to your PC will free up more free storage space.
Screenshots