Sceneum Docu
version 1.1 |

windows

---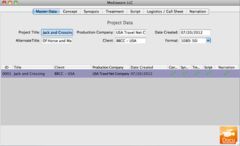 Name:
Sceneum Docu
Version:
1.1
Size:
5.52 MB
Category:
Encoders & Converters
License:
Free
Released:
2012-09-07
Developer:
Mediaware Llc
Downloads:
439
Description
From the Idea to the finished film ? All-in-One Software for Documentary Filmmaker. While feature films are meticulously planned in every detail, it seems that documentary films and TV-productions sometimes are produced ?on the move?. However, this impression is misleading. Perhaps because until now there has been no software program supporting the documentary filmmaker in his planning stage, and consequently everything was solely discussed verbally. For documentary producers usually have very specific image and sound concepts in mind: be it that they envision a dynamic adaptation of the film, or a substituted POV or sometimes an epic direction with lots of scenes shot on tripod.
The various photographic styles have a significant influence on the way the message of the film gets transmitted to the audience and are therefore not randomly exchangeable. Many documentary producers plan and prepare their productions by themselves and therefore have to be on top of every little detail. This includes the development of image and sound concepts along with the instructions for the lighting technician, but also the contents such as the questions for the interview, the duration of the film for broadcasting and furthermore the shooting and editing schedules. And last but not least, addresses of the shooting locations and deviating meeting points for the crew have to be established as well.Smartphones and digital organizer are limited tools. Such a flood of information would simply go beyond their capacity. Consequently a professional film planning tool is needed to handle all those details a producer needs, in order to strategically plan his or her documentary film. Sceneum Docu actively supports documentary filmmaker in the pre-production period of their films; from the initial idea via the concepts for shooting and sound, throughout the call-sheets for the film crew. With Sceneum Docu the filmmaker?s digital workflow already begins during the planning period.
Screenshots