Windows 8 Codec Pack
version 2.0.1 |

windows

---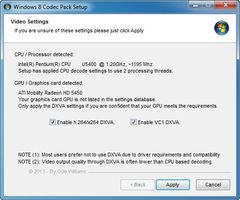 Name:
Windows 8 Codec Pack
Version:
2.0.1
Size:
22.15 MB
Category:
Video Codecs
License:
Free
Released:
2014-04-17
Developer:
Windows 7 Codec Pack
Downloads:
159
Description
The Windows 8 Codec Pack is an easy way to install all main stream codecs to play movie and music files downloaded from the internet or ripped from original discs. Installation is made simple with an easy install option and the most functional setting are automatically applied. Popular file types are set to play in Windows Media Player automatically, although the codecs will work in every player.
Files supported include .mkv (Matroska) .avi .bdmv (BlRay) .evo (HD-DVD) .mp4 .m4v .m4a .flv .webm .ogm .ogg .ts .ps .ac3 (Dolby Digital) .dts (Digital Theater Surround) .mpg .mpeg (MPEG2) .flac .ape (Monkey Audio) .aac (Advanced Audio Coding) .ofr (OptimFrog) .mpc (Musepack) .wv (WavPack) and many more Compression types supported include 10bit x264 (Hi10p), x264, h264, AVC, DivX, XviD, MJPEG (Morgan JPEG) MPEG4 and many more.