Haihaisoft HUPlayer
version 1.0.4.4 |

windows

---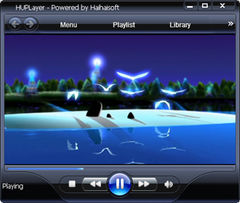 Name:
Haihaisoft HUPlayer
Version:
1.0.4.4
Size:
3.22 MB
Category:
Video Players
License:
Free
Released:
2012-02-03
Developer:
Haihaisoft Corporation
Downloads:
451
Description
The advantages of HUPlayer:
1. Play All Major Audio/Video Formats. Video Formats Support Windows Media (WMV, and ASF), Flash Video (FLV), Real Media (RM, RMVB), MP4 (H.264 codec), AVI, MPG, 3GP, MOV, NUT, OGG, OGM, MKV. Audio Formats support: MP3, WMA, AAC, AC3, ALAC, AMR, DTS, RAM.
2. Fast Launch Speed, Save CPU and Memory Resources.
3. Support Full HD (High Definition) Video Playing.
4. Clean Software. No Spyware, No Adware, No Advertisement.
5. Support Hardware Acceleration.
6. Cross platform: Support Windows and Mac.
7. Included ActiveX Control, Support Streaming online in IE.
8. Support playing DRM-X 3.0 protected Audio/Video files.
9. Provides Skin Online: http://www.huplayer.com
10. Windows Requirements: 32/64 bit of Windows XP, Vista, Windows 7, Windows 2003/2008
Version: 1.0.4.4 Size: 3.1 MB Updated Date: Oct 18, 2011
Download link: http://www.drm-x.com/download/HUPlayer_en.exe
Latest Updates:
# Dynamic watermark text support UTF-8 encoding.
# Improved Blacklist feature.
# Support playing WMV, FLV, Mp4 online in IE.
# Support encrypted videos by DRM-X 3.0. Updated on Dec 17, 2010