Magic Pixel
version 1.0 |

windows

---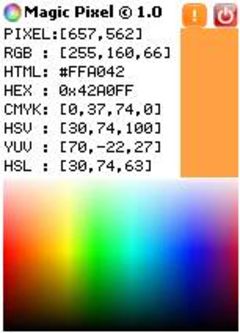 Name:
Magic Pixel
Version:
1.0
Size:
370.6 KB
Category:
Web Design Tools
License:
Free
Released:
2012-05-14
Developer:
New Byte Software
Downloads:
104
Description
a very Handy and compact utility: Magic Pixel allows you to get the color code of the Pixel where the cursor is at!
it's Portable, small and usefull!
to use MagicTray is very easy!
just move the cursor either in the full color palette or anywhere on the screen to get the color code in different formats such as: RGB, HTML, HEX, CMUK, HSV, YUV, HSL..
Screenshots