Express Invoice for Mac Free Mac
version 4.10 |

mac

---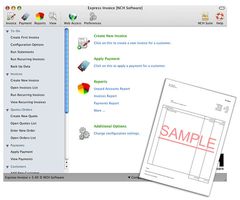 Name:
Express Invoice for Mac Free
Version:
4.10
Size:
2.12 MB
Category:
Finance
License:
Free
Released:
2014-07-29
Developer:
Nch Software
Downloads:
1073
Description
Express Invoice Free for Mac OS X business invoice software. Billing software made easy. Includes remote web console access so multiple users can generate invoices, manage clients and generate billing reports. Express Invoice for Mac allows you to create recurring invoice templates for ongoing services and link to credit card gateways to easily process payments for goods and services. Express Invoice for Mac also includes a number of standard reports such as unpaid accounts, payments, sales person, accounting reports and more. You can then print, email or fax your invoices to your clients directly.
Express Invoicing Software Free for Mac features:
* Send invoices by email or fax directly from the application.
* Remote web access for multiple users from a standard web browser.
* SMTP email send settings include Secure Socket Layer (SSL).
* Select from multiple tax rates when creating invoices.
* Regional format settings include currency symbol, decimal point display and paper size.
* Automatically send statements to customers with overdue payments.
* Configure multiple invoice template layouts including the invoice title, alignment, font size and foot comment.
Screenshots