Standard Accounts Mac
version v8.2 |

mac

---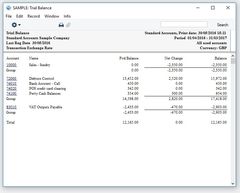 Name:
Standard Accounts
Version:
v8.2
Size:
67.03 MB
Category:
Finance
License:
Free
Released:
2016-05-31
Developer:
Hansaworld
Downloads:
887
Description
ACCESS YOUR BUSINESS ACCOUNTS FROM ANY DEVICE INCLUDING IOS & MAC.
Do your invoicing and bookkeeping, check your business reports, manage your accounting, keep track of your
contacts from your home, office or on the go using a desktop or mobile device. Full support for local sales tax.
Standard Accounts is a free full invoicing package for small businesses. Add functionality such as Automated Accounting for £29.99 per month or CRM for
£9.99 per month. Choose what you need from our wide range of Premium Functionality modules from only £9.99 per month.
Standard Accounts is as easy to set up as it is to use.
Features
*Accounts Receivable
*Accounts Payable
*General Ledger
*Drill down Reports
*No time limits. No transaction limits.
*Updates, data storage & support
Free Functionality
Accounts Payable : Track the status of your payables and make payments.
Accounts Receivable : Create invoices and record receipts. Track the status of your receivables and balances due.
General Ledger : Record your business transactions. Balance Sheet, Trial Balance, Profit and Loss and Tax Reports.
Premium Functionality
Increase your functionality with:
*Automated Accounting
*CRM
*Quotations
*Sales Orders
*Inventory
*Tags / Objects
*Sales Tax / VAT Zones
*Document Number Series
*Price Lists
*Account Reconciliation
*And many more
Highlights:
Mobile : Get a secure real-time overview of your business from your mobile, tablet or laptop. Create an invoice & make payments on the go
Control Your Costs : Expand or scale down at any time ensuring you only pay for what you actually use
Versatility : Multi-Language & Multi-Currency enable you to do business across borders with ease
Consistency : Our consistent approach ensures a simple and familiar user experience throughout the software
Upgrades : If your business needs change, Standard Accounts can seamlessly be upgraded to Standard ERP, for complete Enterprise Resource Planning and CRM.