Dock Dodger Mac
version 0.1 |

mac

---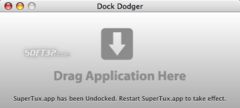 Name:
Dock Dodger
Version:
0.1
Size:
88.94 KB
Category:
Dock Tools
License:
Free
Released:
2007-03-28
Developer:
Foggynoggin Software
Downloads:
1131
Description
Dock Dodger — Sometimes, you find an application that you really, really like, but when you run it, the icon takes up valuable space in your Dock. With Dock Dodger, you can rid almost any application of its Dock icon, giving you your Dock back.
With Dock Doger, removing the Dock icon is as easy as Drag and Drop. Simply drag in the application you want to Un-Dock and Dock Dodger takes care of the rest. When you re-launch that application, it will be sans Dock icon. Want the Dock icon back? Just re-drag the application into Dock Dodger and everything's back to normal.
Please note that un-Docking an app can cause unusual behaviors or restrict access to certain features. See the Dock Dodger website for more details.