Sauerbraten for Mac Mac
version 2009_05_04 |

mac

---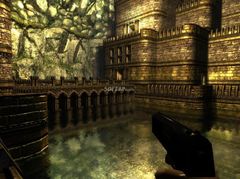 Name:
Sauerbraten for Mac
Version:
2009_05_04
Size:
369.9 MB
Category:
Action
License:
Free
Released:
2012-06-22
Developer:
Albert Mayer
Downloads:
428
Description
Sauerbraten is a free multiplayer/singleplayer first person shooter, built as a major redesign of the Cube FPS. Much like the original Cube, the aim of this game is not necessarily to produce the most features & eyecandy possible, but rather to allow map/geometry editing to be done dynamically in-game, to create fun gameplay and an elegant engine.
The engine supporting the game is entirely original in code & design, and its code is Open Source (ZLIB license, read the docs for more on how you can use the engine).
In addition to the FPS game which is in a very playable state, the engine is being used for an RPG which is in the preproduction phase.